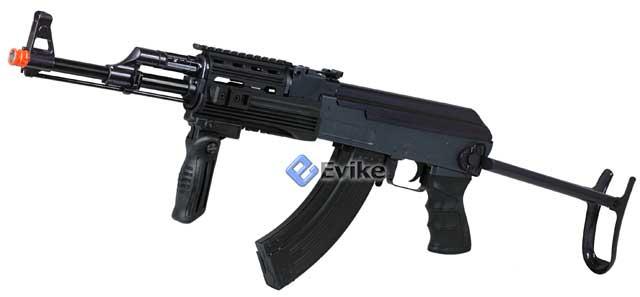 With 2 batteries. Need to sell this week if interesting call me 907 7643211
Selling because moving lower 48 cannot take it with me
Gearbox: Ver.3 Metal Gearbox. Fully Upgradeable.
Hopup: Adjustable.
Firing Mode: Full Auto, Semi Auto and Safety.
BB: High Quality 0.20g or heavier Matrix bb recommended for best performance.
Barrel Length: 407mm.
Motor: Short Type.
Battery: Stick Type. Battery & Charger included are for testing purpose only. For best performance, use a good 9.6v battery & smart charger.
Features:
Metal Barrel Assembly, Bolt Carrier, Upper receiver, Trigger, Sling Mount, Charging Handle, Body Pins and Sights.
Adjustable Metal Sight
Built-in Railed Hand Guard Rail System / RIS for accessory & attachments
Ergonomic G27 Type Motor Grip.
Adjustable Hopup System.
AK Type Under-0folding Stock
New Generation Marui compatible V.3 Metal Gearbox.
Hi-Cap Magazine Included.